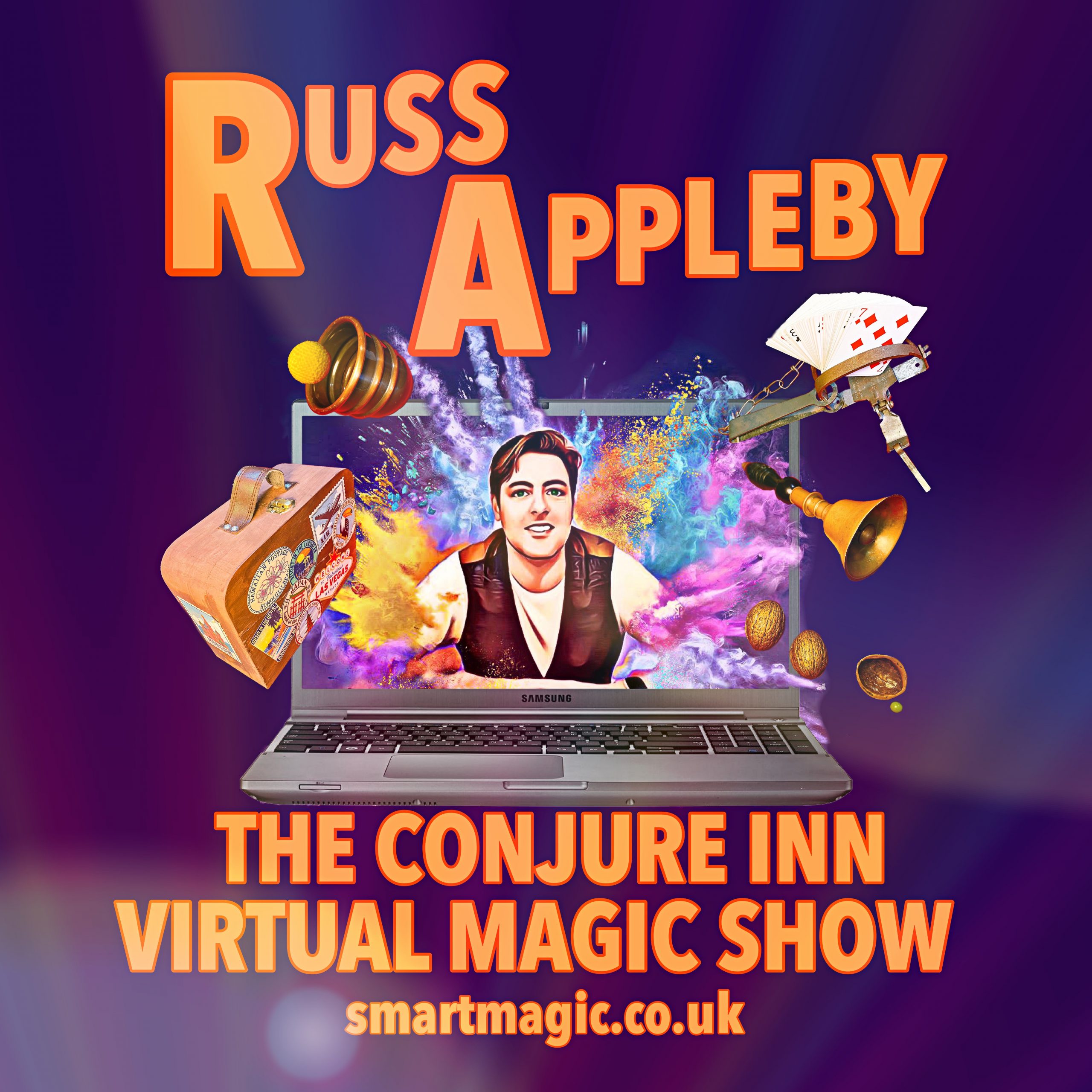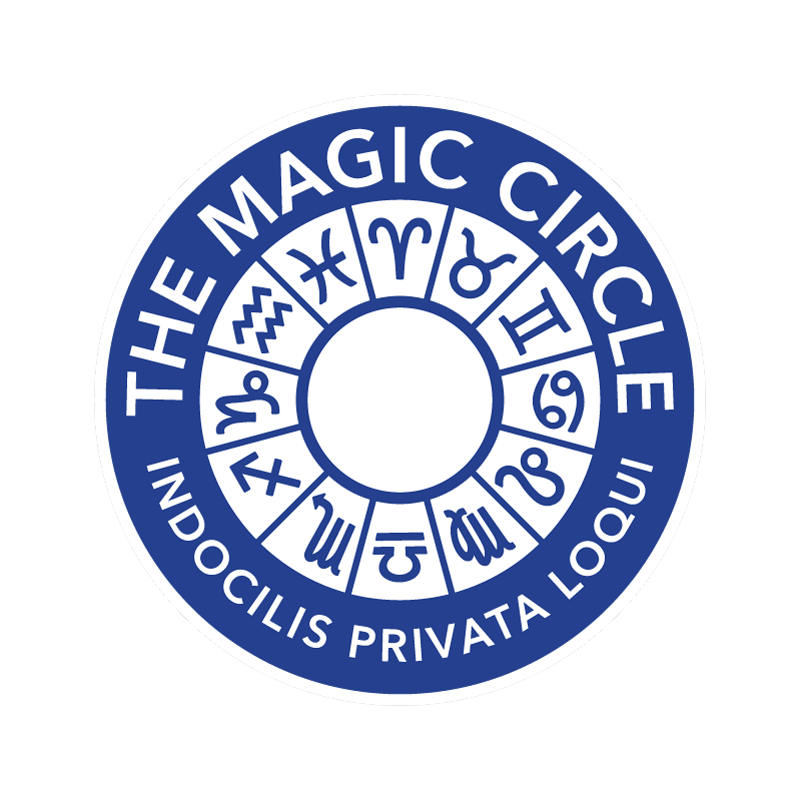 What Is A Virtual Magic Show?
---
Virtual magic shows are interactive, live magic shows performed via video calls direct to your home. Russ Appleby is a member of The Magic Circle & has created 3 different 30-40 minute virtual magic shows for you & your friends & family to enjoy via a video conference call such as Zoom, Skype, FaceTime, Google Hangouts etc. This means that if you enjoy the first show you can rebook & see a completely different show the second time & have just as much fun with your close friends & family ones again. Russ has adapted to the current situation so you can still enjoy top class entertainment live to your homes. He's called it The Conjure Inn. It's like going down the pub with your friends & seeing a private magic show which you can all take part in.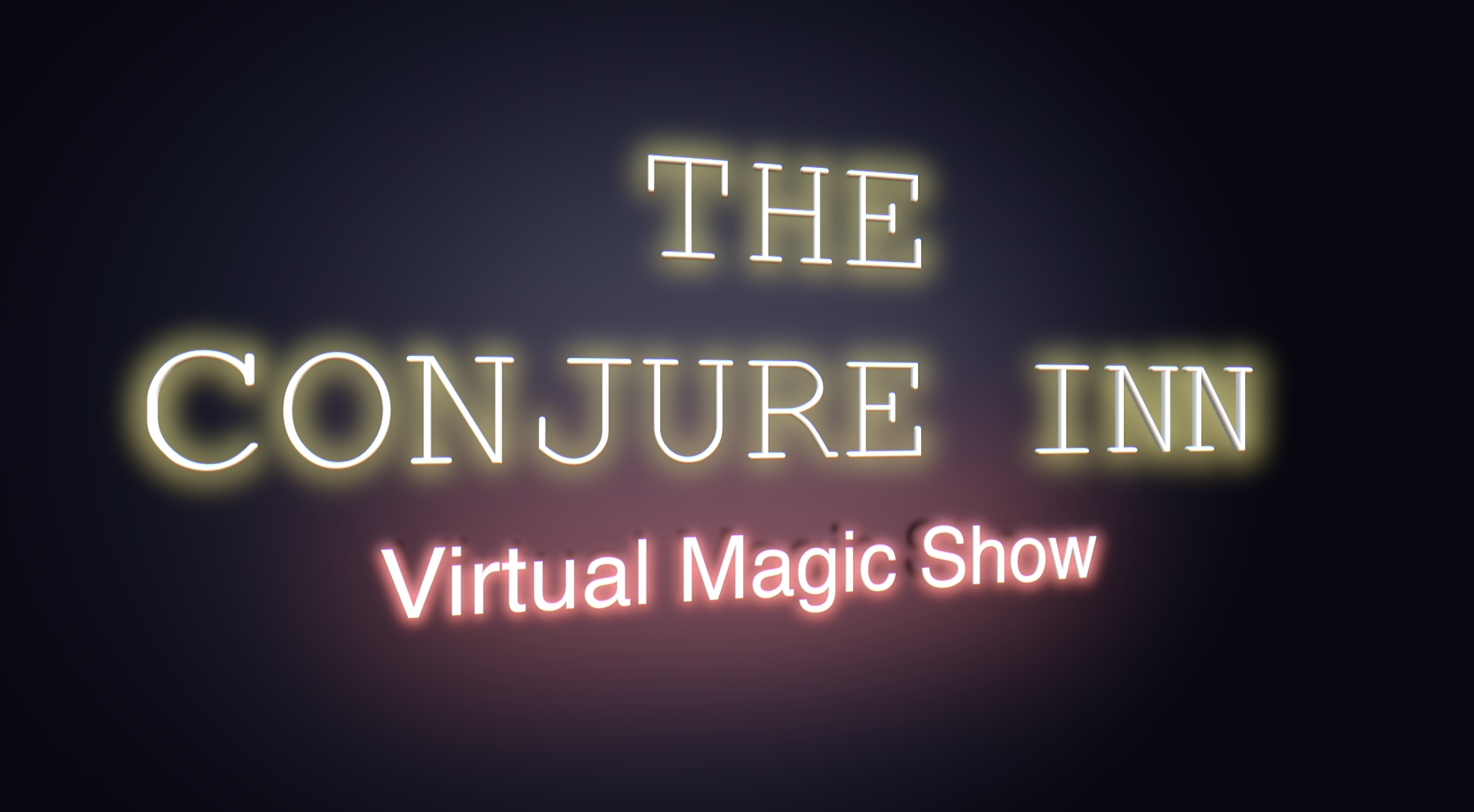 Why Book A Virtual Magic Show?
---
During this taxing period of lockdown during the Corona virus pandemic why should you stop having fun with your friends & family? The pubs may be shut, events may have been cancelled but you still want to socialise & Russ can provide a full 30-40 minute interactive show for you to enjoy during this difficult time no matter where you are in the world. Russ has performed his online virtual magic show via Zoom to people all over the UK, the US & Australia. The beauty of online magic shows is that you can enjoy them wherever you are & invite anyone to them.
What To Expect
---
A virtual magic show is like going out to see a live show. It's interactive, funny & captivating. The great thing about video calls is that the interaction can still take place so that the magic is still unbelievable. You think of an object, Russ can get inside your mind & tell you what it is. You think of a picture, Russ can draw what you're thinking of. You play a game of find the lady or the 3 shell game live via video conference. It's as close as you can get to a personal live magic show in these difficult times, all from the comfort of your homes.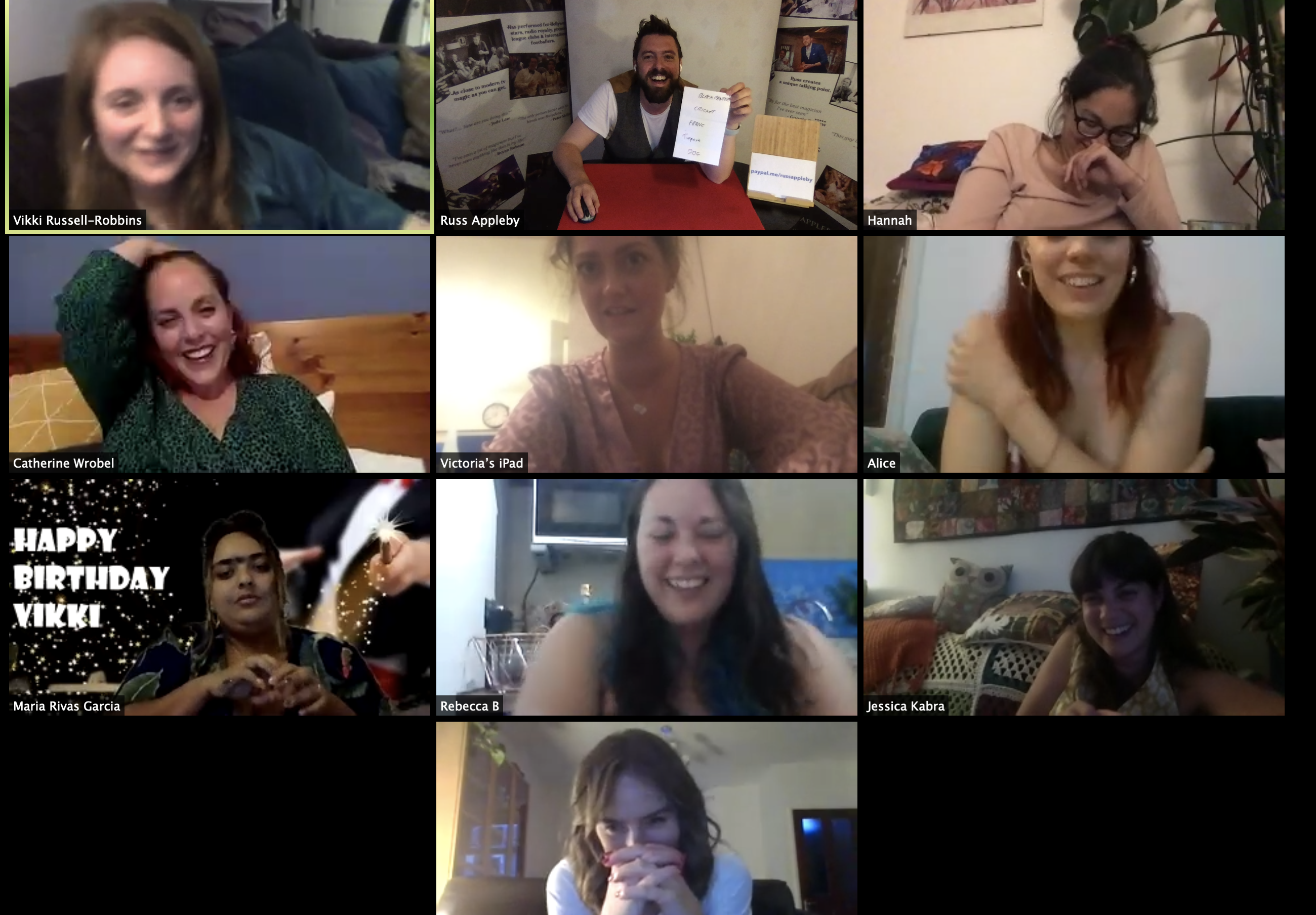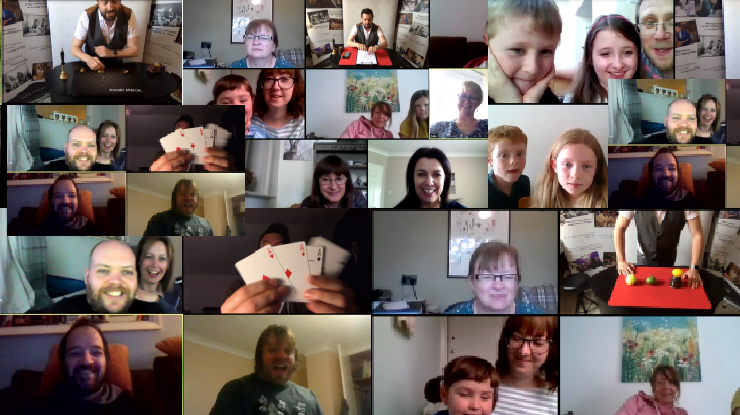 What Do You Need?
---
A video conferencing call such as Zoom, Houseparty, Hangouts, Skype, Webex although we've found that Zoom works best & is widely considered the market leader. Most companies have been using Zoom to stay in touch with employees at this time of social distancing so most people have a good idea of how to you use it. One or two of the guests need access to a phone which they're not using to take part in the chat. This enables Russ to utilise things like Wikipedia rather than a physical book or to send a drawing for you to colour as you wish. Other than that you relax, watch & take part.
How Many Guests Do You Need?
---
We've found that anything from 4 to 15 screens works well although with platforms such as Zoom you can have up to 100 & Russ has performed for 300 at a time for corporate virtual shows. The higher the numbers the more likely it is that the mute function is required however up to 15 screens is a nice number so that everyone can take part somewhere in the show & there's no need to mute anyone. Russ works his way around the screens & involves people in different routines. You may be asked to guess where the ball is, asked to think of an object or name a playing card. It's nothing too tasking & all good fun.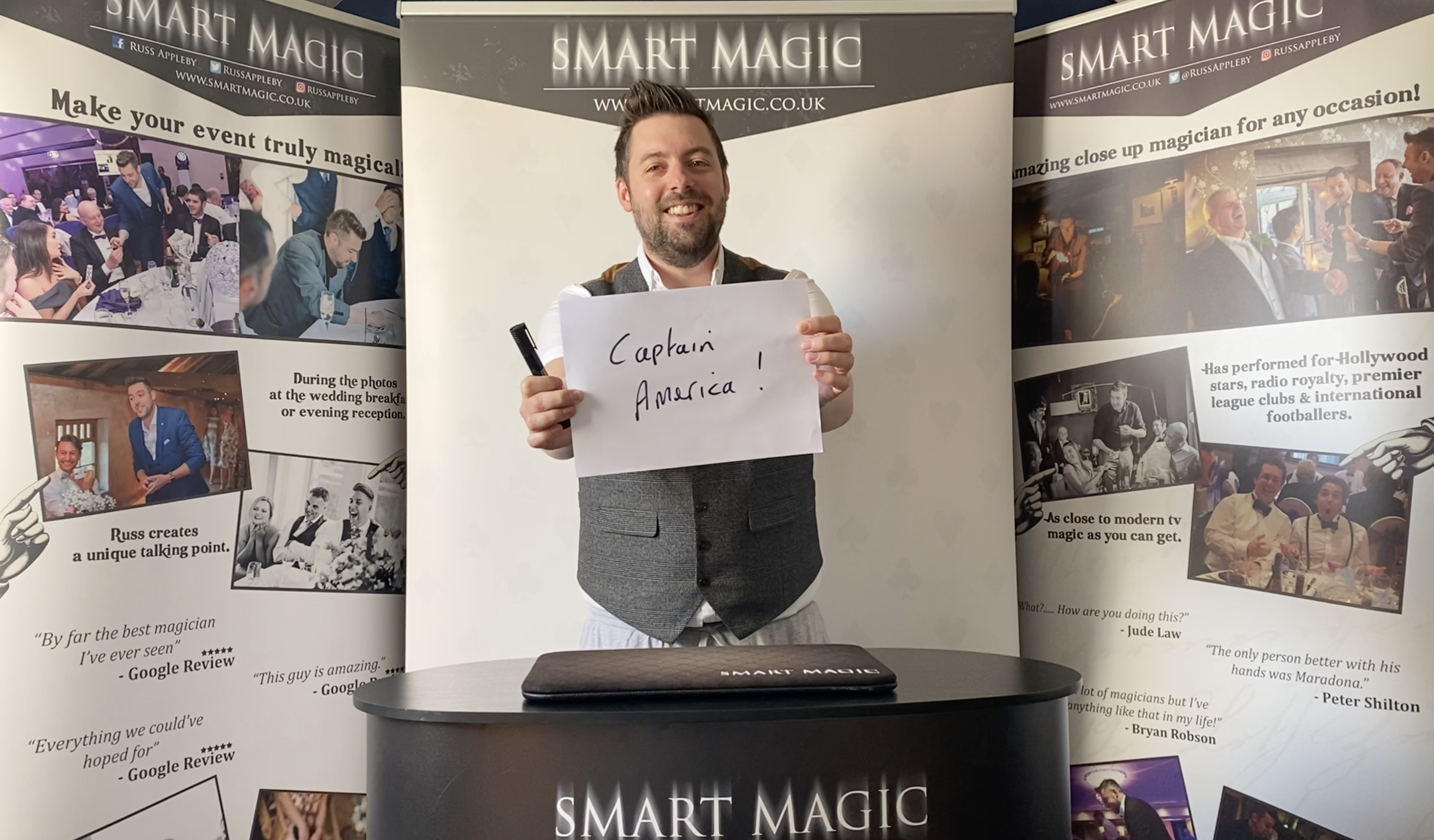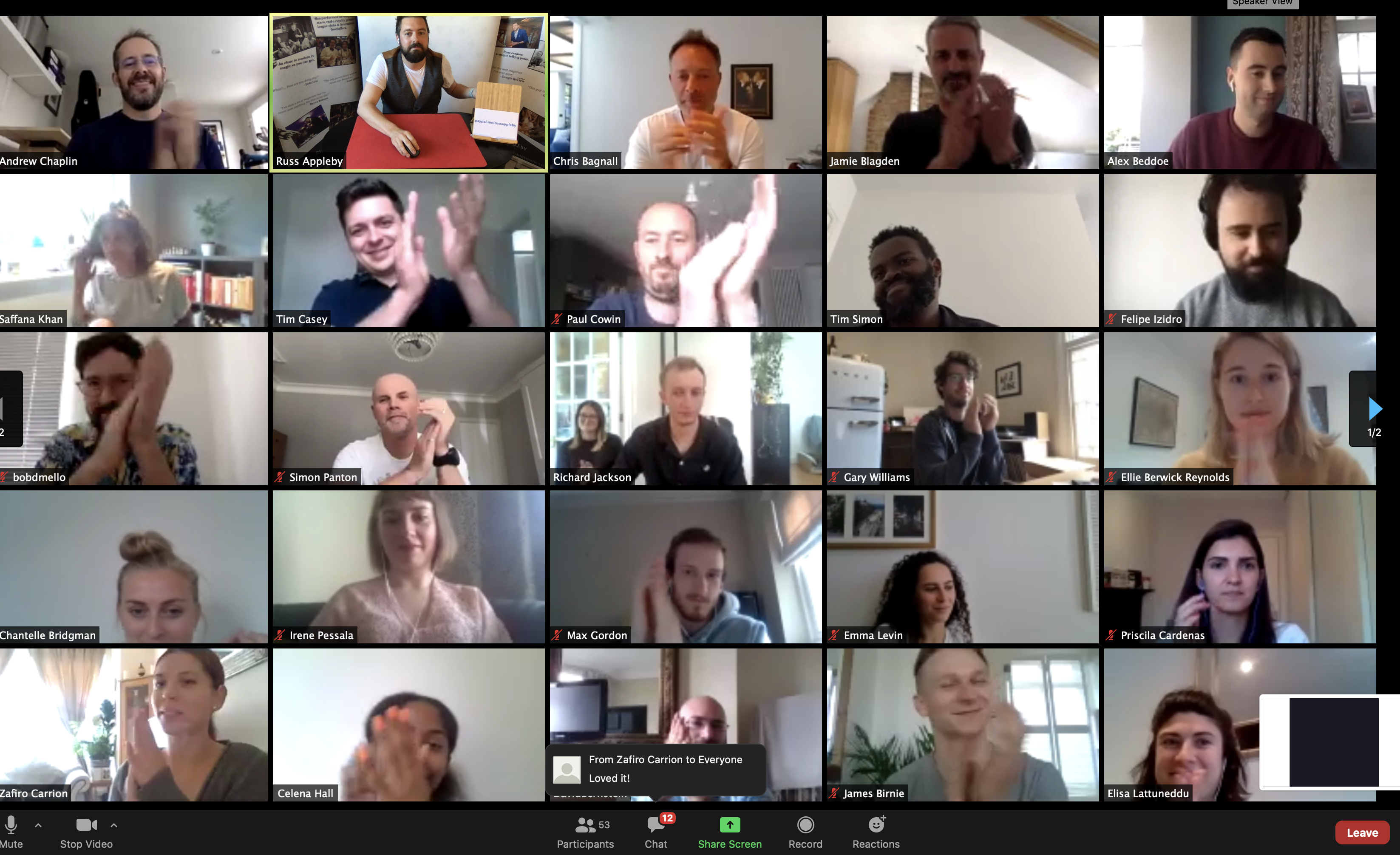 How Much Does It Cost?
---
Whilst some online virtual magicians are naming a price Russ has opted to allow you to pay what you feel it's worth after the event. He'll send you a PayPal link & you pay whatever you think it's worth. We're all experiencing tough times & sadly due to the date Russ went full time with magic he doesn't qualify for government support through the lockdown. As you can expect, with all events cancelled & no income it's been an awkward few months although people have been very generous. The general consensus has been anything from £100 & up to £400 for corporate shows which, when divided between all the guests taking part, is excellent value for live entertainment during lockdown.
Who's It Aimed At?
---
Whilst Russ is not a children's entertainer these shows are perfect for any age. There's some routines which the adult will enjoy more & that will blow their minds, there are others which are more visual, classics of magic which the kids can get involved in & play along too. It's great family entertainment & tailored to your guests. It always ends with an element of danger as all great magic shows should but nothing gory that will keep the kids awake for weeks. There's something for everyone, even that skeptical one you know who always thinks they know how it's done.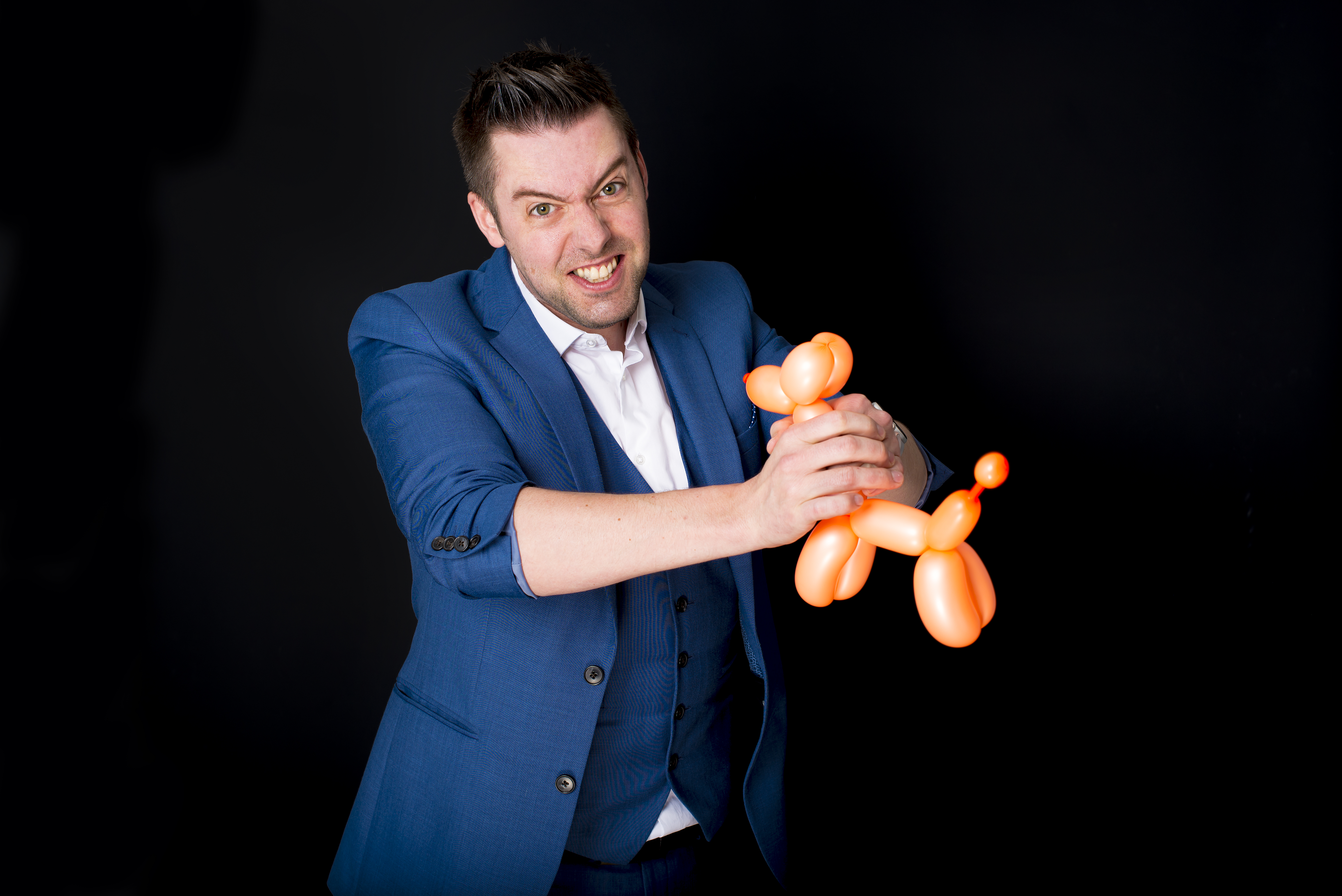 How To Book
---
Send Russ an email or use the contact page form & we can arrange a suitable time for you to enjoy a live, interactive, online magic show in the comfort of your own self isolation.
Don't just watch a magic video, take part in a show! It's the future, for now at least.
Virtual Magic Show Reviews
Below are just some of the comments made by previous clients who have hired virtual magician Russ Appleby to entertain with a stunning virtual magic show for their online party because of his professionalism & experience. Russ has performed online virtual magic shows for all manner of occasions all over the world. These include relaxed corporate meetings, online birthday celebrations, anniversaries & weekly online parties. Russ will amaze your friends & family with an astonishing virtual magic show on Zoom

"We can highly recommend this virtual magic show. The adults & kids both loved it & seeing their amazed faces was brilliant during this difficult time"
Edward - Sheffield

"Thanks Russ, amazing as usual & such a good idea to keep people entertained whilst in lockdown with an online magic show."
Adam & Becky - Hull

"Thoroughly enjoyed it, as did all my work mates. Who knew Zoom meetings could be so much fun? Thanks for a great show."
Alex - London